Union Canal Carriers
For our featured property of the Month, we spoke to Union Canal Carriers to see how Bookalet has helped them!
Heather from Union Canal Carriers
We have been with Bookalet since 2013. We are a family run hire company that has been in business 51 years now. Union Canal Carriers have 17 hire boats sleeping 2 – 12 people and a very popular day boat for up to 12 people. You can't imagine how Bookalet has transformed our business.
In 2013, after always having a paper based booking system since 1968, we decided it was time to go computer based. I compared 4 different booking systems I thought suitable to move our bookings on to. Some of these companies just sent emails and electronic trials of their software, 2 came out to show and explain what their software could do for us. Ross was one of them, he came to my home and I really felt he understood the business from the owners perspective as well as from a customer booking a holiday. I needed a system that was to not too technical to run, nothing complicated, easy and straight forward to access as one family member is not very confident with computers. Ross was very patient with me he setup a temporary account so I could load up some boats and bookings to see how Bookalet would work for us.
Bookalet was still in its early days and there were a few changes Ross added to help it work better for us, the Bookalet team have always been open for suggestions to improvements. When we started to look at rebuilding our website Bookalet were the first people we approached, and now our website and booking system run smoothly between each other and customers regularly comment on how easy it is to use our website and booking system.
One of the first things we noticed was the reduction in the cost of postage (3-4 letters per a booking), not worrying about missing the post collection and post going missing. It may seem strange now but even 6 years ago bookings were still made via post and telephone. Bookalet saved us time and money on stationery I still send a few letters via the postal system but most customers are happy with email. Its so easy to pull off reports to compare year on year, boat to boat, booking leads analyse within seconds. Email marketing is simple with the MailChimp link.
I remember Ross saying how reassuring a ping on the phone is when a customer books through the Bookalet system. He was right! I can access the Bookalet account from anywhere via my phone (which it works very well on) and confirm holidays within minutes of the customer booking. Our reviews from our customers regularly comment on the easy booking process and communication. This is down to the Bookalet system being easy to use, secure and reliable.
Since we started Bookalet we have increased the fleet by 2 boats and built a new website. The team have always been fantastic and ready at the end of a phone helping in the early days explaining setting up the account and point me to things that Booaklet can do that I hadn't used yet. We are going to start to merge Bookalet with our sage accountancy package, which I have no problem worrying about knowing that Bookalet staff will help with the crossover.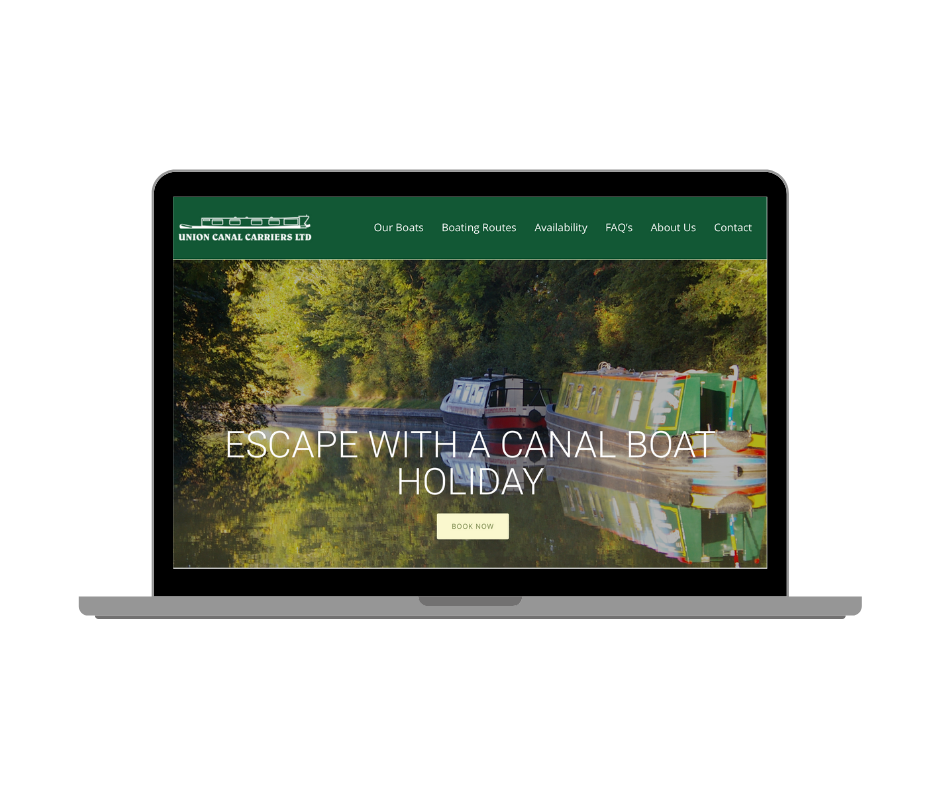 After 6 years using Bookalet we wouldn't go anywhere else. The Bookalet system is easy to use non complicated. It's an award winning booking and marketing package for rental accommodation and we use it for 18 hire boats and it works. The support from Bookalet is always friendly and helpful whatever them question. If you're unsure just Bookalet it!
To book a stay with Union Canal Carriers, click here!